Here is the history of the Joey Shepro Memorial Doublehanded Race. The following is from the Summer 1995 edition of The Rhumb Line, newsletter of Area 1 of the Lake Michigan Sail Racing Federation: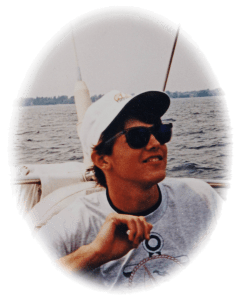 The Final Leg of the Course……
Joey Shepro
An outstanding young sailor, Joey Shepro of M&M Yacht Club, died this summer, eleven months after a CAT scan had revealed the presence of an inoperable brain tumor. He was the seventeen year old son of Joe and Connie Shepro. He was also a much-loved member of the M&M Yacht Club family.
According to his father, "Joey blossomed when he got into sailing." He sailed with his parents on CHIQUITA, their 5.5 meter sloop; then against them, first aboard SPEED LIMIT, with Paul Kasbohm; and finally on FLASH, his own 5.5. Paul was his mentor, coaching him in racing strategy and tactics, and helping him learn those character-forming lessons that sailboat racing teaches us; e.g., no matter how far behind you may be, there is always hope, and so you "never, ever, quit."
Joey had looked forward to the 1994 season. It would be a great one! With his own savings, earned by helping his father build gazebos, he had purchased FLASH, and had begun to recondition it. He was the foredeck hand on George Ehrich's Farr 37 KOALA FLYER for the early season races, including the Thumb. He also had invitations to handle this key job on BANTU, and to understudy for the position on SIGNATURE.
Then the CAT scan and the diagnosis. He was told that even with chemo and radiation treatment he could expect to have only six months, and during this treatment he would be an invalid. Without the treatment, he would probably have less time, but would be able to enjoy one last season of sailing. Joey chose the latter course, and he had a great season. Club members pitched in, along with his family, to strip, refinish, launch, and rig his 5.5. His motto, "Never ever quit" was painted on her stern, and Joey raced the season aboard her.
Joey also continued to race aboard KOALA, and with the club's growing Ensign fleet. He had the opportunity to sail on Lake Geneva with his hero, Buddy Melges. Afterwards, he had a tour of the Melges Boat Works and the Melges Sails loft. When he completed the tour, the loft gave him a set of brand new 5.5 sails: jib, main, and spinnaker. With those, he was virtually unbeatable, finishing the MMYC 5.5 fleet's 1994 season with three "bullets."
Joey's health declined after the season, but he never complained. His brothers and sisters (all younger than he) pitched in to help keep him going despite his increasing disabilities. Through it all, he kept up with his school work, completing the eleventh grade with a straight-A record. A trip to the National Institutes of Health in Maryland for experimental drug treatment (the first test of this drug on a juvenile patient) probably provided more help to the researchers than it did for him.
On June 29, 1995, Joey died. But through it all, he was true to his motto: "Never, ever quit!" He was an inspiration to all who knew him.
The Race
Beginning in the late 1980s, M&M Yacht Club held a doublehanded race called the S&S Doublehander. This race was held in a true yachtsman's spirit – local handicapping so that all boats may participate, collision avoidance, and general good faith racing was mutually expected among the participants. This was Joey's favorite race. After Joey died, the S&S Doublehander was renamed in his memory.
The rules, generally, are:
All yachts shall be raced with only a skipper and a mate (i.e. scurvy dog, greasy rat, etc).
Yachts wishing to race with more than two aboard shall declare this intention to race management in advance. These yachts will not be eligible for placement in the race standings; however, for all other purposes, they shall be considered to be "racing" per RRS.
All handicapping under PHRF shall be done locally. If a yacht has a valid PHRF certificate, race management may assign the NSHCP rating from that certificate. In absence of a valid PHRF certificate, race management will assign that yacht a handicap to the best of its ability. Handicaps are not subject to protest or redress, and race management reserves the right to adjust a yacht's handicap regardless of the presence of a valid PHRF certificate.
Yachts shall sail with no more than one mainsail and one headsail.
Only one headsail may be in the foretriangle at any time, no matter if fully hoisted or partially hoisted.
No headsails with LP greater than 155% of a yacht's "J" measurement may be used.
Engine use shall be allowed until 5 minutes prior to a boat's assigned starting time.
Any collision between yachts will be grounds for immediate disqualification of all involved.
No protests will be accepted. Participants are expected to race in good faith. Any bad faith racing or misconduct, as viewed solely by race management, shall be grounds for immediate disqualification with no redress or refund of race fees.
This is not an official race document. Please see the current Notice of Race and Sailing Instructions for the rules which govern the race each year.
The Fundraiser
M&M Yacht Club members banded together to give Joey the Best Season Ever in 1994. This gift was such a comfort to Joey and his family during his illness that it was decided to continue the spirit of giving. Each year, the Joey Shepro Memorial Doublehander is a fundraiser for Make-A-Wish Michigan. For the last several years, the fundraiser has grown immensely, raising over $24,000 in 2019. This is enough to grant four separate wishes.
Past Race Events